Make Baseball Fun Again
Bryce Harper has a point. It's time to make baseball fun again.
Harper, who's been a vocal proponent of the radical idea that it might be good to invigorate America's pastime with a sense of joy and entertainment, isn't alone in pointing out that baseball can be boring (and whitewashed) as shit.1 And the numbers back up the annual tradition of pearl-clutching think pieces about the decline of baseball's grip on pop culture — just look at the WashPo's graphic on how many people, and what kinds of people, tend to watch baseball since 1994:
Back in the supposed good old days, it used to be that, to quote French scholar Jacques Barzun and practically every American Studies undergrad trying to shoe-horn in an essay about sports to apply to American culture writ large, "Whoever wants to know the heart and mind of America had better learn baseball."
Considering that American pop culture is by and large written by a younger and more diverse audience than baseball's increasingly white, stodgy, Ken Burns' Baseball-DVRing fanbase — and that this youth audience is experienced in an increasingly online environment that baseball until recently has treated with the same patrician disdain it once reserved for instant replay — Barzun's former truism feels less truthful about the sport's place in our national psyche by the inning.
But you know what? It doesn't have to be! Baseball can and should be as exciting and relevant today as it was back in the days before, oh I don't know, the NFL merger or when NBA teams started letting more than two black players on a team.
Baseball is a game of rising intensity, with pressure and stakes building in the moments in between pitches. The ambling, human pacing of the game may make it drag in July, but that same tension and release leads to high drama come fall, when athletic greatness mixes with personal and civic identity on the field. Plus who doesn't want to drink Miller Lite in the summertime and heckle centerfielders from the bleachers?
And on top of the structural advantages for baseball, there are already signs that the authority of the Fun Police is starting to crumble. The MLB apparently just learned of these hip things called Vines, and has been taking to them with the same energy that your dad takes to Facebook discussions about Republican politics. They're even trying out this new thing called Snapface I think, which went… fine. Plus Bartolo Colon continues to be the most gif-able star in the major leagues.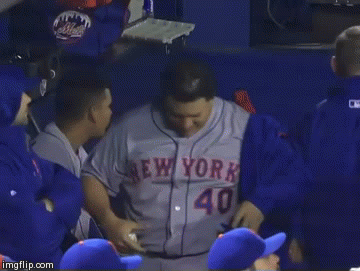 In Chicago, the White Sox scored Chance The Rapper as their official Brand-Ambassador-slash-lid-designer (somebody must have told Kenny Williams that Drake is a person who exists). Meanwhile up north, as much as it pains me to say it, the Cubs continue to sport one of the most marketable teams on the planet, featuring a blue-eyed, stubble-speckled 3rd baseman, an air-humping hamball of a mama's boy at 1st, and a straight-up cyborg assassin of a pitcher.
And that's not even mentioning the playoffs. Good god those bat-flipping playoffs.
Throwing it all the way to the #ALCS: http://t.co/NBTKKkJoS5 #ComeTogether pic.twitter.com/f2kjDcAuiV

— Toronto Blue Jays (@BlueJays) October 14, 2015
Watch that vine and try to stop yourself from dropping to the floor and busting out 50 pushups because you're that jacked up. And that was only one exciting, Twitter-trending moment that happened during those playoffs, when the tension and release inherent in baseball is built up to epic proportions on bigger and bigger stages.
So the groundwork is here. Now here's five ways to build on beginnings:
Give me something to care about for teams besides my own
The NFL has fantasy football, physicality verging on psychopathy, gambling, and the constant excitement that any team can win any given Sunday. The NBA has stars and compelling drama on the court each game. Even hockey has die hard fans who care about the regular season before the playoffs come around.
I have absolutely no reason to care about any team in baseball right now besides my own team. I don't care what you have to do, whether it's pumping these guys full of steroids, inventing new records for players to break, threatening relocation of the Cardinals to Los Angeles, whatever the MLB deems necessary just do something to make me even consider tuning in to a Tuesday night national broadcast.
Make bat flips great again
Bat flips are the best. Bautista's go-ahead bat flip only confirmed what we've known for awhile, especially overseas: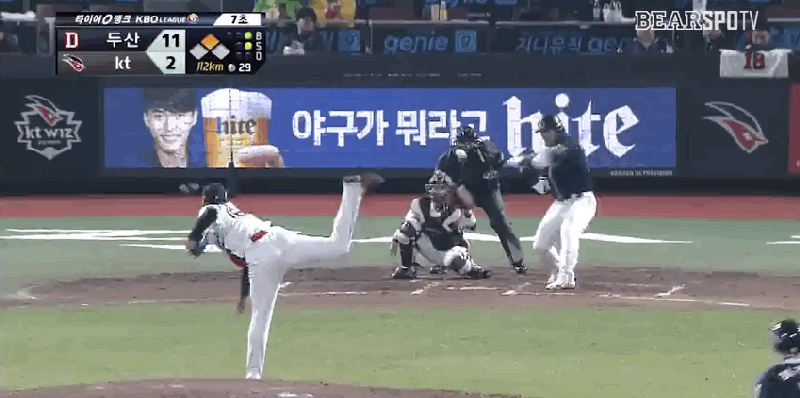 They're an amazing combination of a "fuck you" message inflected with personal style. For a game lacking flair, a kickass bat flip is like a touchdown dance mixed with serving a subpoena while you piss on your opponent's grave — if you're on the pitcher's side of a bat flip, you may as well go cry alone in the corner of the dugout, because you are trash and your children probably already hate you.
And I feel like we've only scratched the surface of the amazing potential for bat flips. Let's make this happen, MLB's ponderous code of ethics be damned.
Showing live strike zones on TV is for fascists, robots, and 538 interns. Get that shit out of here.
Baseball is a human sport, not a slave to the machines. There's no clock, there shouldn't be instant replay, and there should always be room for human error and interpretation.
A lot of broadcasts (ESPN and TBS have been especially egregious offenders) have decided to hasten the oncoming machine revolution by displaying a live strike zone in front of a batter.
This is utter and complete bullshit.
Do you still believe in freedom in the face of conformity, individual expression over the harsh and antiseptic rigidity of despotic algorithms? Do you believe that truth and justice can only be held hostage to the higher power of human interpretation, and that anybody who claims otherwise is either a false god or a mathematics-grad-student-turned-blogger?
Stop cluttering my screens. Stop tearing down my illusion of free will. Stop showing those goddamn strike zones.
Cultivate some honest to god stars
Baseball has always been a game of larger-than-life characters, but ever since it turned out that a lot of those larger-than-life stars weren't organically that large, it seems like the sport's star power has shriveled to the size of Bonds' testicles.
That seems to be changing though, even if baseball's current alpha dog Mike Trout has as much personality as the crusty jizz on Drake LaRoche's socks.
Bryce Harper's been admirably playing the role of MLB hype man and source for ESPN's pull-quote hunter gatherers (look, he's such a #millennial!). Clayton Kershaw, Madison Bumgarner, Chris Sale, and Jake Arrieta lead an upcoming pack of colorful and deadly pitchers. And the baseball media industrial complex is limping into gear to do everything in its power to turn Trevor Story into a thing (although to be fair, it should be a thing when a rookie drills seven homers in his first six games).
That's a good start, but the MLB needs to do an even better job of picking and grooming its star players. Rather than trotting out old guy after old guy to decry Bautista's bat flip or Puig's antics to uphold their 19th-century sense of honor and unwritten codes of Jim Crow era conduct, the game should be celebrating these stars.
If the game's best aren't allowed to get amped and express themselves over their amazing plays, why the hell should we?
Shorten the goddamn season
162 games is too goddamn long. No baseball season should begin before we have our presidential nominees and end during the general election. No baseball season should be snowed out or feature another smiling Jerry Seinfeld during the World Series wrapped up in winter wear as if New York was suffering through The Day After Tomorrow, pt. II.
What's worse, so many games over the course of the season reduces the macro relevance of the league, further making individual games less and less important. Sure the volume of games increases the value of TV deals and gate receipts, but wouldn't shrinking the season back down to 154 games also increase the value of seats or the relative importance of individual matchups? Is anybody clambering that badly for 18 regular season matchups between the Marlins and the Phillies?
Not only would a 5% reduction in the season increase the importance/watchability of every game by at least 5% and reducing the risk of injury from overuse, it would also increase the competitiveness of every team, so that divisions could no longer be wrapped up by late Summer while the majority of teams toil in mediocrity.
The trade-off, of course, is diminishing gate receipts and revenue from TV broadcasts, and perhaps more importantly, a dangerous alteration to the careful ecosystem of records that baseball's Nerd High Guard has carefully ensconced in the archives. A 20-win or 40-HR season is all the sudden a lot more impressive of an accomplishment with 8 fewer games on the schedule, and one of baseball's biggest advantages — the ability to compare different eras with relative ease, especially compared to other professional leagues (steroids notwithstanding) — is hampered.
But we adjust. The NBA or NFL don't feature the same product it did 40 or even 10 years ago, but we adjust, and the debate about comparing players across different eras becomes even more enjoyable when you have less meaningful grounds of comparison to base your argument on.
And if baseball's going to continue to chain itself to its increasingly dusty past, it may as well cede the future now. But if the sport is willing to engage in some basic self-reflection and adjust according to the pretty reasonable demands a modern sports marketplace demands of its stars, hopefully its cultural relevance should only continue to grow on the seeds of its return that the sport has already planted.