Treat Yo Self: Already missing one of the best sitcoms of our generation
According to the eternal wisdom of Ron Swanson, crying is only "acceptable at funerals and the Grand Canyon." I'm not going to say that I flat-out cried during last night's Parks and Rec finale — it was far too upbeat and fast-paced of a series ending to linger too long on the gem we were about to lose — but I did have to sift through enough gifs to properly express my feelings.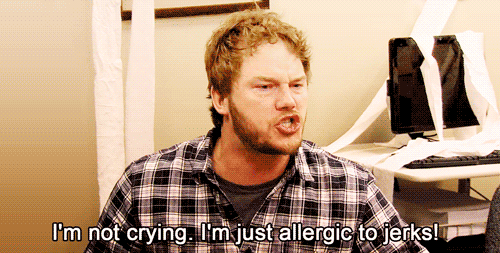 Alright, better now.
The Parks and Rec finale didn't have the same kind of public fervor that built up around fellow NBC sitcom The Office or a drama like Breaking Bad, but I think that suits the series just fine. After all, The Office transcended its genre and redefined the basic parameters for shows that would follow. Parks and Rec took that model and made it better.
Riffing on the Office's documentary style, Amy Poehler and co-Executive Producers Greg Daniels and Michael Schur created a self-aware show that focused on the camaraderie and affection of a totally un-self-aware office of seemingly boring employees. But where Parks excelled was its development of a wide range of compelling and unique characters, who were then allowed to pursue whatever earnest ends felt right.
It certainly helped that Parks and Rec retained a ridiculous wealth of talent over its seven seasons. By digging in and developing supporting characters like Nick Offerman's brilliant Ron Swanson or Aubrey Plaza's out-of-nowhere April Ludgate as much (if not more than) Amy Poehler's Leslie Knope, the show ensured it could stay refreshing without falling into tired character tropes. And how lucky were we as an audience to see the careers of Aziz Ansari and Chris Pratt take off within the umbrella of a series that also spread the love to an expansive selection of cameos, from Louis CK to John McCain?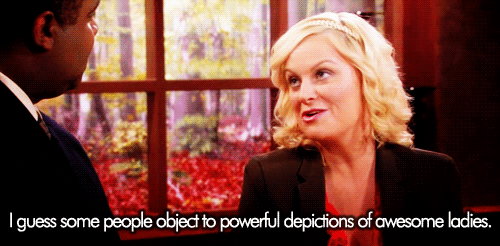 Pretty much since the beginning, Parks and Rec was dogged with hand-wringing about the death of network comedy.1 On the one hand, Parks and Rec was arguably too good for the network success of a show like Modern Family — it was too smart, too liberal, too clever, too difficult to pigeonhole, too earnest to fit the mold of what the wide swath of America tunes in when we want to watch a comedy.
But I think that certain aspects that kept Parks and Rec from achieving true mainstream success, and that have also kept similar great shows like Arrested Development or 30 Rock from being Shonda Rhimes-caliber hits, were built into the very identity of the series. The show was damn-near made for Internet consumption, to be enjoyed in bits and pieces and gifs and Netflix binges. Parks and Rec never went so far as peers like Community did to coddle and reward its slavishly obsessive fan base and shelter them from the harmful winds of character development or television ratings, but the affection Parks showed to its audience and crew, right down to the touching Harris Wittels tribute, felt as genuine and reciprocal as the devotion we felt to the show's characters.
It's hard not to look at Park and Rec and wonder if the lack of uber-mainstream viewership actually helped the show stay great for as long as it was on the air. After years of uncertainty, the show maintained a balance between the hunger that comes from striving to stay alive and keep viewers tuning in while remaining too smart and protective of the gem they created to drastically alter the end product in the hopes of garnering a wider audience.
By remaining just big enough, Parks could stay weird and intelligent and make men's rights or Neutral Milk Hotel jokes and kill off a town's beloved miniature horse because they wanted to. Unlike the bland Modern Family, which got double the ratings on half the heart by stretching its characters to fit all possible demographics ABC could brainstorm, Parks and Rec could feature characters whose identity derived from their unique amplification of everyday quirks. Modern Family's characters feel so insubstantial to me because they're trying to be something to everybody. The Parks and Rec family feels so rich because it's a collection of unique identities whose interactions and passions developed naturally.
Last night's finale kept with the program, liberally dosing out Parks and Rec's secret sauce of side narratives, Joe Biden appearances, self-referentiality, and compassion. Instead of a self-congratulatory romp through the past, we got closure and April eye-rolls and a look ahead to what these multi-dimensional characters might become.
It was a great finale, and I couldn't have been the only person to tear up at the realization that all the years of Leslie Knope's campaigning or Ron Swanson's woodworking were coming to an end.
Parks and Rec seemed to come into its own just as me and so many others were developing into the people we are today. It was the show that kicked off a briefly extraordinary Thursday night run of shows (warming up for The Office, 30 Rock, or Community)2 and the show that streamed into dorm rooms and libraries and that was there for you when you needed it most. So there's a personal connection between millennials3 and the show: it's our show. It was on when we were growing into ourselves, a slice of comfort and comedic relief set in an unchanging town while so much around us changed so rapidly. It provided solace during times of stress, and an outlet for cementing new friendships or sharing a show with loved ones. Parks and Rec is as good anything else we've got to point to as a symbol of our generation — a frenetic, slightly naive, slightly cynical show of self-possessed but well-intentioned characters.
At its best, which was often, Parks and Rec was a perfect comedy. It was a beautiful slice of respite and laughter that could turn your perceptions on their head and never cease to surprise you. Every week (or every Netflix binge, if we're being honest), the Parks Department gave us something we could tune in to and treat ourselves to 20 minutes of joy, smiles and the occasional Ginuwine reference. And that's why I can't help but miss the show already.